PVC Thermopoly Shutters
A big trend at the moment on the Central Coast is PVC or Synthetic Shutters like the premium Thermopoly shutter range. The reason they are so popular is their ability to go in any room of the house including the bathroom or kitchen. The limitations are the width and the varying qualities. Although they are Synthetic our Thermopoly range is still a premium brands compared to lessor quality PVC brands.
PaintedThermopoly Plantation Shutters with a huge range of colours including 5 shades of white and many other colours.

64mm, 89mm & 114mm shutter blade sizes available depending on the depth of your window.

Ideal for wet areas like bathrooms and kitchens.

Can be made as hinged operation with a choice of colours.

Can be made as framed or unframed with no surcharge.

Can be made as bi-fold operation or sliding. Ideal for sliding doors or larger areas.

Can be custom paint colour for a minimal surcharge. Any colour from the Dulux colour chart range is available.

Excellent insulation saving your energy costs.

Filtering of local noise.

Adds street appeal and aesthetics to your home.

Easy light and breeze control with no banging blinds.

A variety of frames available to suit most window types.

Plantation Shutters can be fitted on the face or reveal of a window.

Depending on the brand (we use several brand and choose the right one for your home)

Up to 900mm wide per shutter panel custom made to your window. Unlimited Panels.

Panels can be joined together for a larger sliding panel. Up to 1700mm wide.

Minimum 230mm wide panels.

Maximum height 2400mm.

6-8 week lead time.

Custom made to your exact window measurements.

2nd check measure always done to reduce errors and wait time.

Order confirmed in writing.

Clear warranty terms given in writing.

Extended warranty terms honoured through Premier Shades and repairs done locally.

Plantation Shutters are perfect for Bay Windows and have special frames to make them fit perfectly.
How much does it cost for Plantation Shutters in Central Coast?
Make no mistake. Plantation Shutters can add value to your home. They are often mentioned in advertising by real estate agents as a feature of homes. They are a premium product that can add value to your home as well as be fantastic insulation in both Summer and Winter.
There are some companies that advertise a square metre price on shutters to hook you in. Apart from obvious quality and brand variables there are other costs involved including installation, certain framing, tracking and access. A decent quality plantation shutter can cost between $400 and $500 a square metre including everything.
Make no mistake. There are plantation shutters advertised for $250 a square metre on the Central Coast. Be careful. There are huge quality variances in Shutters on the Central Coast. Particularly PVC. These are the ones we replace a year or two later. Some of the really cheap ones are not treated with UV protection (which you think would be obvious for something that is going to be sitting in a window). Some are hollow and made of inferior quality. A karate chop from a playful child and the shutter lourve is ruined. Some are brought in from overseas and then glued together. The first sign of a hot Summers day or a window that faces the hot western afternoon sun and the shutters may yellow, or warp. Some plantation shutters are not coated properly and use inferior paint that has harmful VOCs emitting from them.
If you are serious about planation shutters adding value to your Central Coast home it is best to get an on site inspection and quote. They are one of the more expensive window furnishing and you want to get it right.
Can I install Shutters in my glass sliding door?
Yes. But you have a few choices to make for your plantation shutters. Sliding Shutters move along on a track. The track can carry the weight on the bottom or the top. (we prefer it to hold it on the bottom, but its your choice). The type of track will depend on your floor covering. Will it be going on carpet or a hard floor? There are different options for both.
The next choice you need to make is how many panels you would like sliding across. Most of our Central Coast customers choose two tracks and slide the Shutter panels along. However if your sliding door opening is extra wide, the panels may not be wide enough as many panels having a maximum width of 900mm. We have options around this and can discuss it with you on site.
The last choice is how you would like the shutter blades to be when you open and close the shutter. Would you like the shutter lourve blades to be in the open position or the closed position when you sllide the shutters open and closed.
If the blades are in the close position then the Plantation Shutters will protrude less into the room. However, you need to remember to close the shutter lourves every time you want to open and close the shutter. This can be a little tricky with young children around. We have a sliding shutter configuration on display in the showroom on the Central Coast and can show you how that works.
Where are the Shutters Made?
Most PVC or Synthetic Shutters are imported these days. Shutters are a labour intensive product and the Australian made ones can often add up to double the cost.
However, there are definately better quality versions and brands of imported Plantation Shutters. At Premier Shades we have access to a competitively priced Australian made Aluminium Shutters as well as various brands of imported Basswood, Painted Basswood, PVC, Synthetic, and Cedar Plantation Shutters. We have most of them on display in in our showroom at Wyoming.
We have access to a great range of Australian made sythetic and Aluminium Plantation Shutters. for our Central Coast customers. Some are sourced from Queensland and others from Newcastle.
As an independant Central Coast business ( we are not part of any Blind franchise, carpet chain, rug chain, etc) we can buy whatever brand or qualty we want. We have access to many brands and qualities and have found really realiable imported Shutter products and companies to deal with. Our staff are constantly getting trained in the latest trends in Shutters and our customers often remark to us that we were the only ones who seemed to know what was going on.
Why Choose a PVC Synthetic Shutter over a Wooden Shutter?
Synthetic PVC Shutters are ideal for wet areas. Particularly Kitchens and Bathrooms.

Many Synthetic PVC Plantation Shutters have extended warranties up to 25 years. (Timber is usually around 5 years)

Some PVC Synthetic Window Shutters are cheaper than Timber, but be careful! There are serious quality issues on some (see below)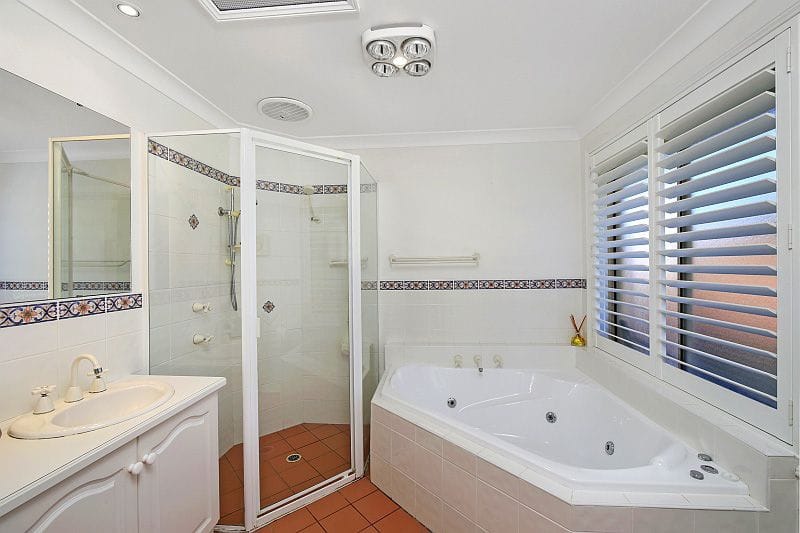 Is there better Quality PVC Synthetic Window Shutters?
Some of the cheaper PVC Shutters are not coated in the correct UV stabiliser to withstand hot windows. They may warp or yellow in the hot sun.
Some franchisee suppliers in carpet companies and rug companies are locked into just 1 brand, beware if they tell you all PVC Shutters are the same - they are not.
Beware, Plantation Shutters sold by out of area and out of mobile vans. We have heard terrible stories of bad quality and no back up services, even if they have a glossy brochure.
At Premier Shades we mainly supply a premium PVC Synthetic Plantation Shutter - Thermopoly 25 as we have had very few issues with quality
At Premier Shades we can also get access to cheaper PVC Plantation Shutters.
If price is your main consideration, we will advice you the fors and against of each product so you can decide.
Often the cheaper PVC has limited width capacity. You may need to do more panels of shutters to fit your window. Just check first.
We have many of the PVC Plantation Shutters on display in our showroom,
They are displayed in either panels or actually fitted to windows. Come take a look and compare the difference.

We offer a free NO PRESSURE measure and quote with a trained window furnishing consultant inside your home or office. Contact us to organise a Quote or a Free In Home Measure and Quote.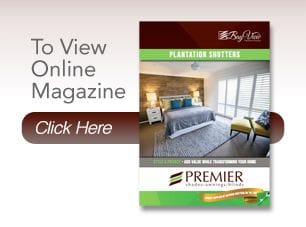 We are more than happy to quote over the phone or by email. Call us on 4324 8800 or you can come and see our Blinds, Shutters and Awnings showroom at Wyoming on the Central Coast.