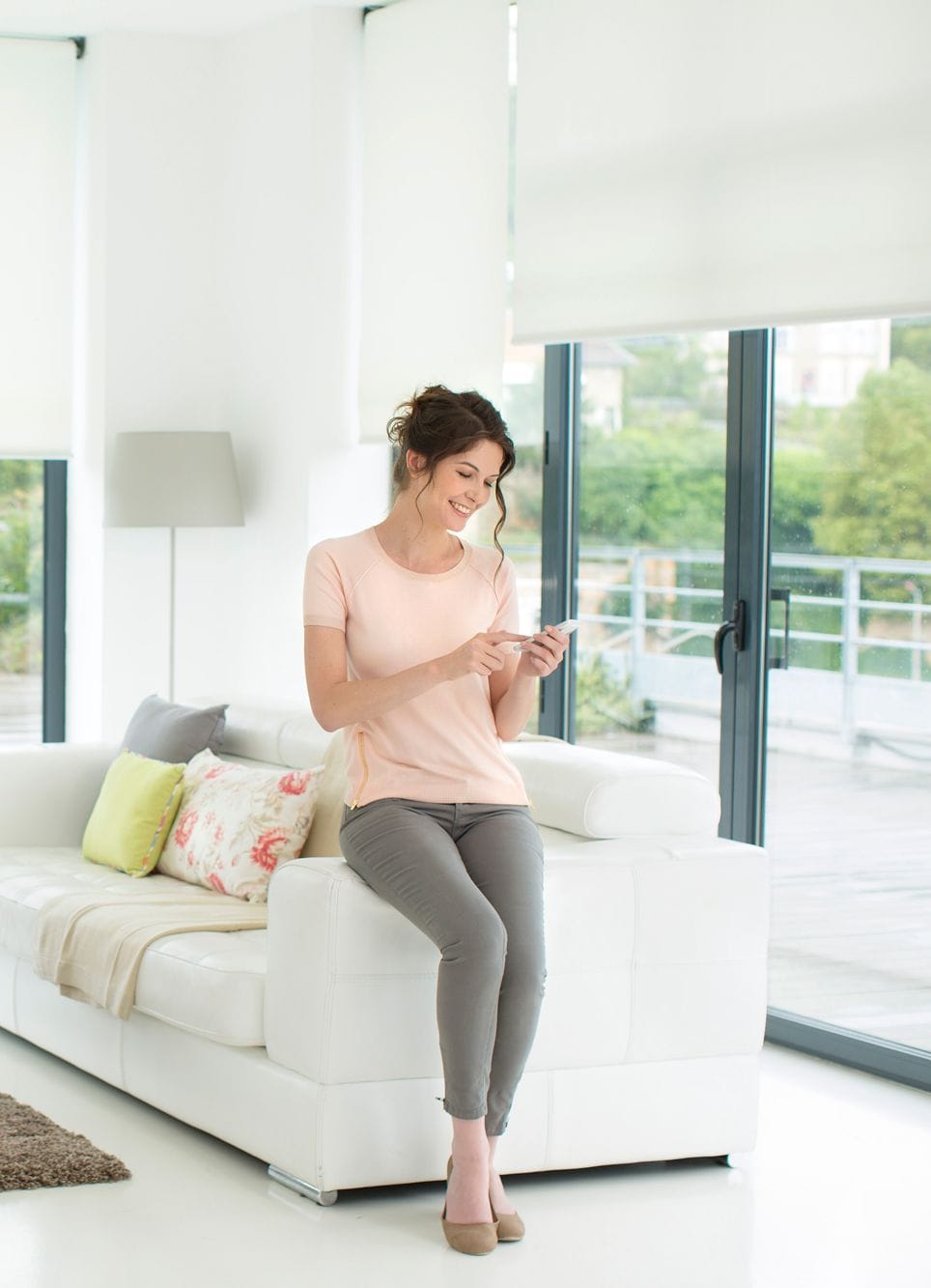 Somfy Motorisation Special
At Premier Shades we know how to automate! SPECIAL PRICE EXTENDED FOR 1 MORE MONTH!
Motorising your blinds can add that sophisticated touch to your window, removing messy cords and giving your home a more streamlined contemporary look.
Operating from a stylish remote control, or better still the new smart phone app. This means you can open and close your blinds from the comfort of your chair, the lounge, or even your bed! Imagine opening up the blind to check out your daybefore your feet hit the ground!
Add your own signature style with custom made bespoke motorized blinds, made right here on the Coast and take advantage of our HALF PRICE MOTORISATION OFFER!*
For a limited time at Premier Shades, you will receive world leading Somfy blind motor at HALF PRICE when you purchase a new custom made roller blind from Premier Shades.
Prices from $205 extra to motorise your new roller blinds with remote (excludes electrician) Or from $430 including 1 channel remote and Specialized Somfy Electrician.
Buy 5 or more motorized blinds and its only $345 per blind extra including the Somfy Electrician.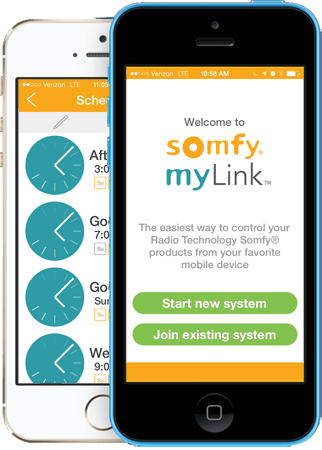 Operate your blinds from anywhere!
Why not try the new MYLINK WIFI HUB?
You can operate your new motorised blind from anywhere in the world from your smart phone.
RRP $440. NOW JUST $220.
This offer is for a limited time only
CONTROL YOUR SOMFY MOTORISED BLINDS FROM YOUR MOBILE PHONE ANYWHERE IN THE WORLD!
The latest technology available from June 2016 is Somfy Mylink.
If you have existing Somfy Motorised Blinds you can get this technology NOW for under $500 plus installation.
If you are thinking of purchasing Somfy Motorised Blinds you can have the SOMFY MYLINK feature added for under $500
You must have WIFI connected in your home/office where the blinds are fitted.
You must have WIFI connected where you want to control the blinds from. (either at home, or where ever you are in the world)
Contact Premier Shades to purchase the MYLINK HUB and organise for Premier Shades to have it connected and your blinds synced to it.
The Somfy mylink hub plugs into a powerpoint near your wifi.
Download the FREE app from your app store on your phone. Available iphone and android.
Anyone in the house/office can control it from their phone.
Control up to 20 blinds
You can still use your remote, or your phone.
You can have the blinds pre programmed from your phone to go up and down at certain times of the day/night.
For example. Blinds come down at 6pm each night, and up at 6am. Or set for sunrise and sunset. (your phone knows when this is)
You can set different programmes for different times of the day. For example you could programme the blinds in your office to always be down on weekends.
This technology on display at Premier Shades. 18/482 Pacific Highway, Wyoming.
---
*Some conditions apply:
1. The motors that will be supplied will be Somfy. The entry level price of $205 would be the Somfy Altus motor with a remote control and using your own electrician, or us installing the roller blind with a 3 pin plug for you to have a power socket nearby. However, it is recommended to get the Somfy electrician and have the motorised blind hardwired. This is a cleaner Look and extends the warranty of the motor from 5 years to 7 years. This extra cost to motorise a blind is a minimum of $430 per roller blind. (Usually $547, a saving of $117). If you purchase 5 or more motorised blinds the price becomes $345 per blind, including the motor, the remote and the Somfy electrician installing it.
2. The deal is for half price motors, not half price blinds. Blinds will be charged at the normal competitive price and if you choose you can motorise your roller blinds for half price.
3. The electrician Premier Shades use is supplied by Somfy Automation. He is specifically trained in blind automation. Using the Somfy automation electrician extends the warranty of the motor from 5 years to 7 years. Premier Shades highly recommend the use of the Somfy electrician for a seamless installation.
4. Please note the half price is for motorisation, not the cost of an electrician. We cannot discount the cost of the electrician.
5. The half price promotion is for roller blinds made at Premier Shades only. We can motorise other products but they are not part of this promotion.Please ask for a special deal on motorisation for other products as we are very competitive.
6. The most suitable remote will be given to you depending on how many blinds you have and what rooms they are in.
7. These products are on display in the showroom of Premier Shades. 18/482 Pacific Highway, Wyoming. If you are unsure in anyway of how to operate the blinds or what they will look when installed please visit our showroom for a complimentary demonstration.