7 Day Express Service
Roller Blinds, Vertical Blinds and Timberstyle Venetian blinds are all at 7 day turnaround for in stock colours and fabrics. We will manufacture and install your deposited order within 7 days. Enquire in the showroom or when one of our consultants are in your home, what we have available in the 7 day express range. We usually keep the most popular colours in stock.
---
No Interest Finance
Have your blinds, shutters or awnings now, and pay them off over 6-24 months. (Different time periods depend on how much you finance) You pay NO INTEREST EVER ON YOUR PURCHASE. Read more ..
---
STOCKTAKE FABRIC REDUCTIONS.
We've just completed stocktake and have some excess and discontinued fabric.
Ask your rep when they come out to quote about our SPECIALS.
We only stock popular colours and designs, so you will be really pleased with the colour palette and design. It is just for some reason our suppliers have discontinued the range, or we have accidentally ordered way to much stock. Either way its to your advantage.
ONLY WHILE STOCKS LAST
---
Roller Blind Fabric ON SPECIAL (can be motorised)
Blockout Blinds:-
100% blockout fabric regardless of the colour.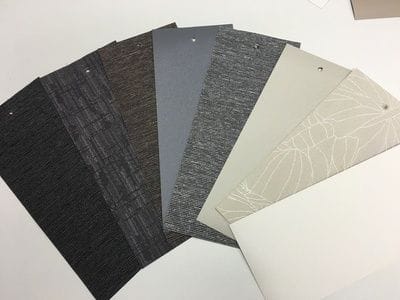 Boston- Charcoal (Brownie/Black blockout with texture)
Elegance - Flannel (Medium Grey blockout, easy care wipe down fabric)
Elegance - Putty (Beige type colour, easy care wipe down fabric blockout)
Elegance Winter White (Creamy colour blockout, similar to Dulux Whisper White)
Papillion - Jasmine White (Creamy Beige with beautiful leaf embossed pattern. Designer European blockout fabric)
Balmoral - Bournville - ( textured chocolate brown, with copper undertones blockout)
Balmoral - Jet (textured steely black blockout with silver undertones blockout)
Balmoral - Steel (silvery grey blockout).
Screen Blinds:-
(ideal for day/night blinds combined with a blockout, or for living areas where there is no privacy issues)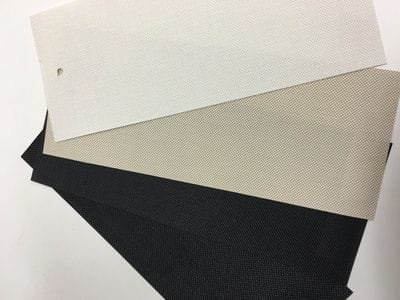 Sunshadownet - White/White Sable. a creamy white screen.
Sunshadownet - White/Sable a two toned screen with a cross weave of white and cream.
Sunshadownet - Charcoal.
Shaw Screens - Charcoal.
Transcluent and Light Filtering Blinds: -
(ideal for privacy, but not darkening the room)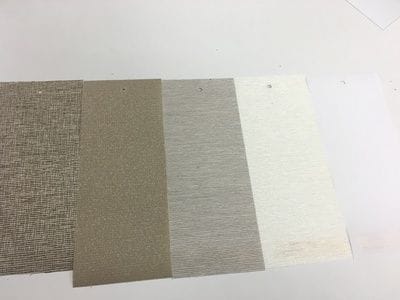 Branxton Charcoal/Linen Transcluent. - a textured fabric with chocolate brown, charcoal and cream woven through.
Louvolite - Stipple. A white translucent fabric. plain.
Hyatt - Buckwheat Translucent. A beige textured fabric.
Balmoral - Concrete. A silver/beige textured translucent fabric.
Balmoral - Pearl - a white textured translucent fabric.
Book your free in home measure and quote here. Mention the specials page to check availabilty of fabric. You could save up to 20% off these popular fabrics but only while stocks last.
---
We offer a free NO PRESSURE measure and quote with a trained window furnishing consultant inside your home or office.
We are also more than happy to quote over the phone or by email. Call us on 4324 8800 or you can come and see our Blinds, Shutters and Awnings showroom at Wyoming on the Central Coast.